Panantukan Seminar in Frankfurt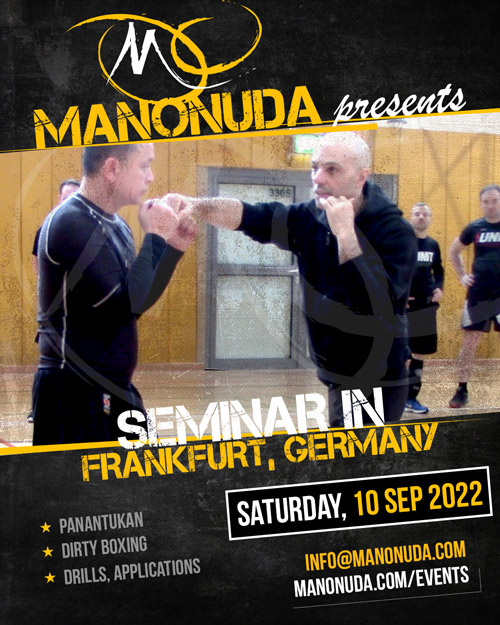 Coach Gianfranco from MANONUDA is invited to teach a Panantukan / Dirty Boxing seminar in Frankfurt, Germany.
Corona dispositions:
Please bring proof of vaccination and current negative day test (self-test with picture proof is sufficient). Our training rooms are equipped with Hepa 14 air filters. Masks are required at the school, but can be removed during training.
Date & Time:
Saturday, 10 September 2022
10:00 – 14:00
Address:
Frauen in Bewegung e.V., Baumweg 8
Hinterhaus (corner Sandweg)
60316 Frankfurt
Equipment:
Please, try to bring whatever items you got from this list:
MMA Gloves or similar)
-Mouth Guard
-Groin Cup


-Water
-We'll be on mats, so bring sandals to walk outside of the training area, please.
Price:
40€ (please bring exact change)