Panantukan vs Boxing Seminar in Brussels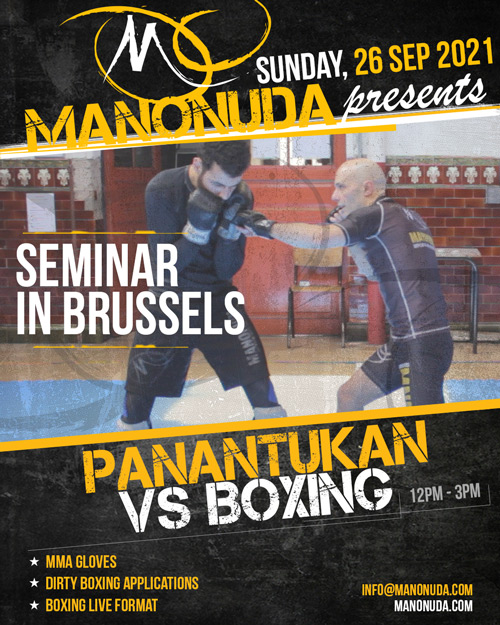 MANONUDA is glad to organize a "Panantukan Applied To The Boxing Format" Seminar, held by Gianfranco Lanucara.
Date & Time:
Sunday, 26th of September 2021
12:00 – 15:00
Adress:
Ecole Ma Campagne
Rue Du Page 78, 1050 (Near Place du Chatelain)
Brussels, Belgium
Program:
Fighting Switching Stances
Panantukan Techniques Isolation
Panantukan Techniques Integration into the Sparring Forma
Live Training: free and controlled combat
Equipment:
MMA Gloves
Mouth Guard
Water
We'll be on mats, so bring sandals to walk outside of the training area, please.
Payments:
Bank Transfer, or Cash at the event place.
BNP-Paribas Fortis
BE35 0016 1735 2637
Communication:
Seminar 26 Sep 2021