Self-Defense Seminar in Brussels: Holds & Chokes Defense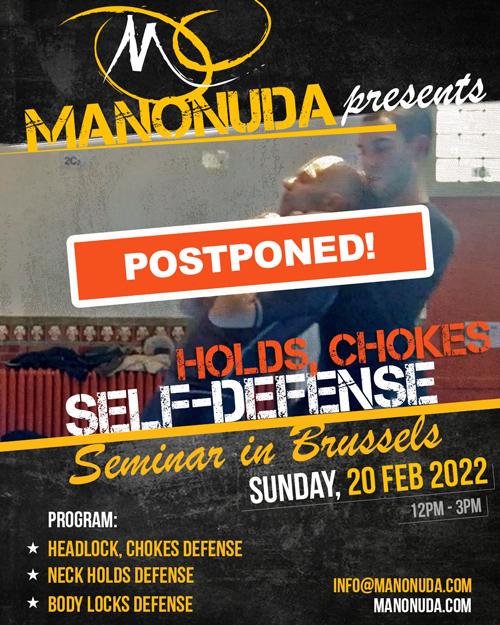 POSTPONED! Unfortunately, due to possible issues related to the current situation with Covid, this seminar is postponed to a yet undefined date. Stay in touch for updates.
MANONUDA is glad to organize a "Self-Defense" Seminar, held by Gianfranco Lanucara, with a focus on defense and escapes against different kinds of Chokes, Headlock, and Body Locks.
Reservation:
Please reserve your spot by sending an email and make the payment by Bank Transfer (info below).
Date & Time:
Sunday, 5th of December 2021
12:00 – 15:00
Address:
Ecole Ma Campagne
Rue Du Page 78, 1050 (Near Place du Chatelain)
Brussels, Belgium
Program:
Defense & Escapes Against:
Front & Rear Chokes
Neck Holds
Headlocks (different positions)
Body Locks
We'll work on different concepts, principles, drills, techniques.
Equipment:
Not much equipment is needed for this seminar, just as a reminder:
Take some water with you.
We'll be on mats, so bring sandals to walk outside of the training area, please.
Payment:
Bank Transfer, or Cash at the event place.
BNP-Paribas Fortis
BE35 0016 1735 2637
Communication:
Seminar 5 December 2021